TMD Treatment
Dentist in Warrenton, VA
At the office of Dr. John W. Harre, DDS, we offer relief for patients experiencing TMD, temporomandibular joint disorders, which are issues you experience with your jaw, as well as the joint and facial muscles surrounding your jaw.
If you encounter any symptoms of TMD, be sure to make an appointment with our dentist. These symptoms may include tension and tenderness in your face or jaw, difficulty with opening your mouth wide, locking or clicking of your jaw, difficulty in chewing, a tired feeling in your face, and swelling on the side of your face. Other common symptoms of TMD include toothaches, headaches, dizziness, earache, ringing in the ears or hearing problems.
We will look into your medical history to determine the cause of your symptoms and will examine your jaw thoroughly. We will check for locking of the jaw while opening and closing your mouth. Additionally, your bite and facial muscle function will be examined, and we will evaluate your jaw pain and tenderness. In some cases, x-rays will be taken to check your jaw, jaw joint and teeth for irregularities.
If you are feeling soreness or tenderness in your jaw, you should schedule an appointment in order to receive a proper diagnosis and to explore your treatment options. We can help you maintain a beautiful, healthy mouth that is free of discomfort. We strive to deliver treatment as gently as possible and we offer care for patients of all ages. Call our office today.
---
Related Articles on TMD Treatment
This "chameleon" of dental disorders manifests in a variety of ways, including joint pain, sinusitus, ear pain, tooth and headaches. Dear Doctor magazine examines the causes of TMD, its signs and symptoms and what can be done to treat this common disorder… Read Article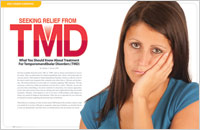 TMD, or Temporomandibular Disorders, is an umbrella term for various painful conditions that affect the jaw joints. There are different treatment approaches to TMD problems, but not all are based on science. It's important to be up on the latest information and to be an educated consumer. In this comprehensive article, Dear Doctor magazine provides state-of-the-art information and guidance on what you should know, whom you should see, and what you should ask… Read Article